Member Recipes - A place to share our favorite garden produce recipes.
Members who want to share please email in your favorites.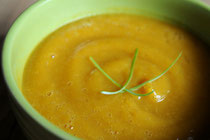 Light Cheddar Butternut Squash Soup
• 2 lbs butternut squash, peeled and cut into cubes
• 4 cups chicken broth or vegetable broth
• 1cup sour cream (low fat or regular)
• 1/2 cup grated cheddar cheese
• 2 tbsp salted butter
• 1/4 tsp ground red pepper
• 1tbsp sugar
In large saucepan combine squash and broth. Bring to a boil. Simmer until squash is tender about 20 minutes. Remove from heat and let stand until cool. Puree in blender in batches and return to saucepan. Over med-high heat add sour cream and cheese, butter and red pepper. Stir until heated through. Do not bring to a boil. Add sugar if needed after tasting. Makes 4-6 servings
Enjoy!!! - Diane Muenzen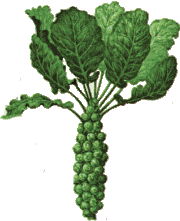 Shredded Brussels Sprouts with Prosciutto and Parmesan
 This is an outrageously rich preparation so feel free to lighten it up with milk instead of cream*
• ½ cup unsalted butter
• 6 cloves garlic minced
• 4 oz thinly sliced prosciutto, cut into slivers
• 2 lbs Brussels Sprouts trimmed and shredded by cutting each sprout into thin slices
• 3 Tbs flour
• 1 ½ cups heavy or whipping cream*
• 1 cup light cream
• ¼ cup sweet Marsala
• 1 tsp nutmeg
• salt/pepper
• 1 ½ cups freshly grated Parmesan cheese
1. Preheat oven to 350 degrees 
2. Melt the butter in a large sauté pan over medium high heat. Add the garlic and prosciutto and cook, tossing with a spoon for 4 min
3. Add the Brussels sprouts and continue to cook, tossing constantly for another 4 minutes. Stir in the flour and toss to coat the Brussels sprouts.
4. Gradually stir in the heavy cream*, light cream, and Marsala. Reduce the heat and simmer until the sprouts are barely tender, about 5 minutes. Add the nutmeg and season to taste with salt and pepper. Stir in 1 cup of the Parmesan and cook until the cheese is melted. remove from heat.
5. Transfer the mixture to a shallow 9 inch square gratin dish. Top with the remaining ½ cup parmesan. Bake until bubbly and the top is slightly browned, about 20 minutes. Serve hot. Makes 10-12 servings.
This is my most shared recipe.  Sure, kids around the world HATE just the sight of Brussels Sprouts.  This is OK, as it means more for us!  Add this dish to your Thanksgiving menu and you will not be sorry.  It is from the Nantucket Open House cookbook that I gave my sister many years ago.  True story:  I brought this dish to a Christmas party and I overheard someone say, " geez, who brings Brussels Sprouts to a party?"  The serving dish was EMPTY by the end of the dinner and she asked for the recipe!   If you ever see a copy of this book at a book sale, grab it! - Diane Muenzen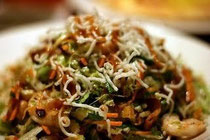 Ingredients
3/4 cup salad oil
1/3 cup sugar
1/3 cup white vinegar
2 x 2.8 ounces packages beef-flavored ramen noodles
8 cups shredded cabbage with carrot (or coleslaw mix)  
1 cup slivered almonds, toasted
2 medium carrots, chopped or shredded (1 cup)
1/2 cup sliced green onions
1/2 cup shelled sunflower seeds
Directions
1. For dressing, in a medium bowl, whisk together the oil, sugar, vinegar, and the seasoning packets from the ramen noodles. Set aside.
2. In an extra large bowl, combine the dry ramen noodles, cabbage, almonds, carrots, green onions, and sunflower seeds. Drizzle dressing over the cabbage mixture. Toss to coat. Makes 8 side-dish servings.
I love this salad. Sometimes I make it without the nuts for my son who is allergic. I love to bring it to picnics because it coordinates with other foods so well. - Denise Tedeschi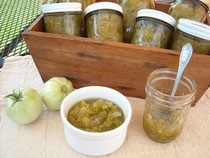 Green Tomato Relish
AKA (Chow Chow)
from the Mommy's Kitchen blog

Ingredients:
12 large green Tomatoes (cored) (I used about 20 small to med size)
4 - green bell peppers, seeded
4 - medium or 1 extra large yellow onions
1 - red bell pepper, seeded
1 - tablespoon + 2 teaspoons yellow mustard seed
1 - tablespoon celery seed
2 - cups cider vinegar
2 - cups granulated sugar
1 tablespoon + 2 teaspoons kosher salt
Directions:
 Chop the tomatoes and peppers very finely. Either by hand or in small batches in a food processor. I diced up all my veggies only because I like a chunkier relish.
 Add the chopped vegetables in a large pot (heavy bottom non reactive pot) add the mustard seed, celery seed, vinegar, kosher salt and sugar.
 Stir well and bring to a simmer over medium heat. Cook stirring often and skimming as needed. ( I did not have to skim off anything)
 Simmer until the relish/chow chow cooks down and thickens into a relish, about 2 hours. Turn into hot sterilized jars and process in a hot water bath.
 Recipe Yields: 5 1/2 pints
If you go to the blog website you can follow step by step directions w/photos. I love this recipe and instead of canning it I freeze batches in ziplock bags. - Denise Tedeschi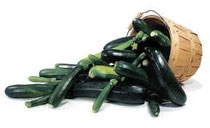 Zucchini Cobbler
8 cups zucchini
1 cup sugar
3 tablespoons flour
1 dash salt
1 teaspoon cinnamon
3/4 teaspoon cream of tartar
1 tablespoon lemon juice
1 (10 ounce) can crushed pineapple
1 box yellow cake mix (Jiffy) or 1 box white cake mix (Jiffy)
1/2-1 cup butter, melted
1/2 cup nuts, chopped (optional)
 Directions:
 -PEEL AND CUT ZUCCHINI LENGTHWISE, STRIP OUT SEEDS, CUT IN 1/2" SLICES, COOK IN BOILING WATER UNTIL TENDER. Do not overcook.
-DRAIN, COOL IN COLD WATER FOR 5 MINUTES.
-DRAIN, ADD SUGAR, FLOUR, SALT, CINNAMON, CREAM OF TARTER AND LEMON JUICE.
-STIR WELL.
-ADD PINEAPPLE AND JUICE.
-MIX WELL.
-DO NOT BEAT.
-POUR INTO A GREASED BAKING DISH (13X9" pan).
-SPREAD DRY CAKE MIX OVER TOP.
-DRIZZLE BUTTER OVER CAKE MIX.
-SPRINKLE NUTS ON TOP.
-BAKE AT 350F degrees FOR 60 MINUTES.
I cut down on the amount of sugar in this recipe because the cake mix is pretty sweet. I also cut down on the melted butter drizzle and find no difference in taste. The zucchini tastes and feels just like apples when it is cooked and used this way. Amazing! - Denise Tedeschi